The industry solution for large series production
The marking device Signomat S100 offers you the full range of all marking possibilities. Thus the Signomat S100 is suitable both for marking individual parts as well as for the electrochemical marking of small, medium and large series.
The marking device Signomat S100 is equipped with electronic short-circuit protection, microprocessor controls and a digital, illuminated display that makes it easier for you to set the marking parameters. Thus you immediately see the exact marking time and the light-dark choice of the marking type. As standard, a foot switch comes with each S100 marking device, with which the start of the marking process can be triggered. When the set marking time has passed, an acoustic signal indicates to you that the marking process has ended.
In addition, our Signomat S100 marking device allows you to select the marking tension. You have the opportunity to mark with 12, 18 or 24 Volt. Higher marking tensions are necessary for example for marking non-ferrous metals such as aluminum, in the case of surface-treated parts, large signs and graphics and for the use of some low-corrosion electrolytes.
To mark large surfaces, set the marking time of the marking device S100 to indefinite and wipe off the stencil piece by piece. With the Signomat S100, you have the advantage that it was especially designed for marking larger marking surfaces and that with the Signomat S100 you can connect even larger stamps than with our other marking devices.
However, you can mark smaller markings very quickly and easily in 2 - 4 seconds. For larger numbers of parts to be marked, with the Signomat S100 marking device you can connect the two expansion systems L1 and M1 as well as the pneumatic work holder. The conversion from manual operation to semi-automatic machine is especially fast and easy and you can mark even large numbers of parts economically, purposefully and in a very short period of time.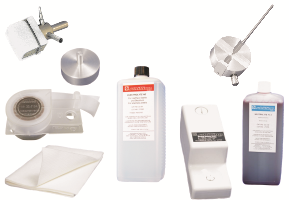 Various and individual accessories
Shortest delivery times
For all marking needs
elektrolytische Beschriftung